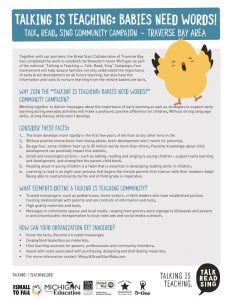 Welcome Trusted Messengers!
This is the location where you will find information about available trainings and communication with your Talking is Teaching Action Team about our regional Traverse Bay campaign (Antrim, Benzie, Grand Traverse, Kalkaska, and Leelanau Counties).
You can become one of our Trusted Messengers by watching the recording of the training below. If you are from a different county outside of our area, we can help connect you to your regional Talking is Teaching campaign in Michigan.
Trusted Messenger Training 2/18
When finished, complete the survey for the training below to tell us your thoughts and we will get you going in the process of ordering materials. Find the survey here:
http://bit.ly/TrustedMessengerTrainingEval
Community Partners Acting as Trusted Messengers:
Grand Traverse County Health Department
Benzie Leelanau Health Department
Northwest Michigan Health Department
Grand Traverse Children's Clinic
Kids Creek Children's Clinic
Grand Traverse Women's Clinic
Northwest Michigan Health Services
Grand Traverse Baby Pantry
Traverse Area District Library
Oryana
Great Lakes Children's Museum
PoWeR Book Bags
Born to Read
Read to Me
Great Start of Traverse Bay
5toONE
Norte
Traverse City Presbyterian Church
Redeemer Lutheran Church
Lake Ann United Methodist Church
Advent Lutheran Church
Interlochen Public Library
Grow Benzie
Kensington Church of Traverse City
Interested in becoming a Trusted Messenger for Talking is Teaching?
Email Missy Smith (missy@greatstartkids.com)