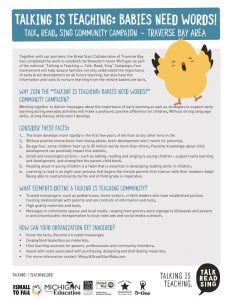 Welcome Trusted Messengers!
This is the location where you will find information about available trainings and communication with your Talking is Teaching Action Team about our regional Traverse Bay campaign. More updates will be forthcoming. Come back!
Community Partners Acting as Trusted Messengers:
Grand Traverse County Health Department
Benzie Leelanau Health Department
Northwest Michigan Health Department
Grand Traverse Children's Clinic
Northwest Michigan Health Services
Grand Traverse Baby Pantry
Oryana
Great Lakes Children's Museum
Interested in becoming a Trusted Messenger for Talking is Teaching?
Email Missy Smith (missy@greatstartkids.com)