We are excited!
All playgroup registration will now happen electronically both here on our website and on our Facebook page as events are created.  The good news: No more paperwork which means more time to play! For a calendar listing of all playgroups currently offered, please visit 5toONE.org/ . To see playgroups easily, enter the word "Playgroup" where it says "New Search Item".
Most of our 5toONE Neighborhood Centers are back to having face to face playgroups. Registration is required for each playgroup.  You will receive an email confirming your family's reservation within 24 hours of the group. If you register, are confirmed to come, and cannot make it, please let us know as soon as possible so another family can attend.
To register to attend, click the playgroup logo image(s) you wish to attend below:
Updated Fall 2022 Playgroup Schedule by Melissa Smith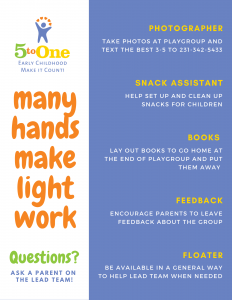 Our playgroups are guided by parents and carefully crafted to offer quality experiences for children and families. There is no charge for attending.  Many families want to know how they can help support the playgroups while having fun with their children.  Any parent who wants to help out is encouraged to do so in the ways listed here. Consider helping with a small task at playgroup to help the group run smoothly.  Our parents make it happen!
Other face to face playgroups will be added soon.  Check here and on Facebook for updates.  
Find up-to-date info on playgroups, events, Great Start Parent meetings at https://greatstartkids.com/great-start-parents/
Keep up-to-date: on CDC recommendations for preventing COVID-19 spread in communities.