We are a volunteer network working to ensure that all children enter kindergarten safe, healthy, and eager to succeed in school and life.  We aim to: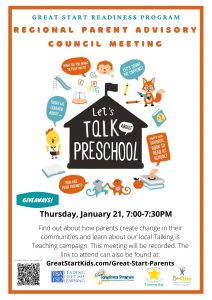 Provide opportunities for training & activities for parents & caregivers of young children

A

dvocate for better early childhood services & systems

R

ecognize parents as their child's first & most important teacher

E

mpower parents to be leaders and advocates in their home, workplace, & community

N

etwork with other parents
Take time to learn about early childhood & parenting

S

trengthen families
Great Start Parents Virtual Meetings
Come to the first Regional Parent Advisory Council for Great Start Readiness Program and get an overview of what Great Start Parents has to offer! On Thursday, January 21, from 7:00-7:30 parents will have the chance to learn how parents create change in their communities through Great Start Parents. We will also share the excitement around our newly launched Talking is Teaching regional campaign.  Attend the meeting by using this link.
Our next Great Start Parents meeting will be virtual on Tuesday, January 26 from 12:15-1:30.  We will share the roll out of our Parent-to-Parent support effort to distribute Talking is Teaching materials across our region.  Would love to have you on board to reach out and lift up other parents at this socially isolating time. Learn about 5toONE Winter Activities an equity challenge for families and how you can participate. More great information to come!
Register here for the January 26, 2021 meeting!
Did you miss our last meeting? Watch the recording here:
Great Start Parents Meeting 12.14.20
GSPC 2020-21 Meetings Flyer PDF
Read with Us! "Untamed" by Glennon Doyle Book Discussion: January 28 @8:00PM
What better way to raise a reader than to read yourself! Parent Rebecca Clinton will co-lead a discussion of Untamed by Glennon Doyle.
Register to be part of the discussion on "Untamed"
What is a "Pandemic Pod"?
Are you thinking about starting or joining a pandemic pod to meet your needs for child care and/or early education? If your answer is YES! we have put together some helpful guidance for creating or participating in this type of pod. Read "Pandemic Pod Guidance" to learn more about "podding".
If participating in a pandemic pod interests you, use our Family Risk Tool determine your risk profile and risk tolerance, and connect with us on zoom for Q & A sessions and coaching.
Let's all work together to give our kids a GREAT START!